Halloween Treats



Jack-O-Lantern Photo Station
Glorietta 3 Park
October 20 to 31

Halloween Fun Craze
Activity Center
October 31
10:00 A.M. to 6:00 P.M.

Park Trick or Treat
Glorietta 3 Park
October 31 12:00 - 2:00 P.M. and 4:00 - 6:00 P.M.

How to be part of this Halloween Event:
1. Kids 12 years old and below are invited to attend Glorietta's Halloween Fun Craze.One (1) companion is allowed per kid.
2. Registration will begin when the mall opens at 10:00 A.M. on October 31,2008 at the Glorietta Activity Center.

How to get your Special Treats:
1. All participants will be given an activity passport upon registration. This passport will entitle you to visit our interactive booths. Each booth visited will be marked/stamped. Upon completion, present your passport to the event marshalls,. This will serve as your raffle ticket. All passports should be submitted by 11:15 A.M. and 4:15 P.M. Raffle draws will be at 11:30 A.M. and 4:30 P.M.
2. Kids in Halloween costume will be given a lootbag stub upon registration.
3. A maximum of 1000 lootbag stubs will be given away to a first-come, first-served basis.
4. Kids can claim their lootbag upon exit on
October 31, 2008

Concierge Hotline: 752-7272

Have a Spooktacular Halloween!


October 31, 2008
Spook Troupe
Costumed buskers will be roaming around to perform tricks and to give away treats for shoppers.

Trick or Treat
Store after store with candies galore, just look for the Spooktacular sign!
Trick-or-Treaters meet up at the Tickled Pics area between B5 (near Figaro) and B8 (near Aldo) at 5:00 P.M. and 7:00 P.M.

Tickled Pics
For every Php500 purchase at Bonifacio High Street, get to pose with members of the Spook Troupe and get a Spooktacular photo souvenir!
From 4:00 P.M.-11:00 P.M.
Mechanics:
a. Receipts must be dated October 31, 2008 to qualify.
b. Present single or accumulated receipts amounting to P500 from the participating merchants of Bonifacio High Street to the tickled pics booth (located in the covered walkway near Figaro and Aldo).Qualified receipts will be stamped and returned to the customer.
c. Each customer may have a maximum of four photos upon presentation of receipts to the redemption booth.
d. Present the stamped receipt to the redemption booth to claim photo/s.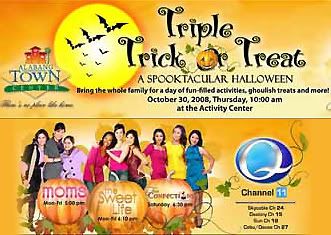 Triple Trick or Treats, A Spooktacular Halloween
10:00 A.M.

Halloween Carnival
31st of October 2008 Friday
We celebrate, a day where treats abound,
We invite everyone to come around.
Lots of family fun and things to do,
prepared especially for you!

Costume Parade
Come in your best costume and win prizes
Mall-wide Trick-or-Treat*Magic Act & Side-shows*Halloween Program Games*Hourly Raffle Draws*Candy Shower*Halloween Booth Activities and so much more!

4:00 P.M. Assembly at Activity Center
5:00 P.M. Trick-or-Treat and Costume Parade
6:00 P.M. Games and Magic Show
See Poster for details.
Concierge Hotline: 886-7519
Text "Ayala Malls" to 2948
www.ayalamalls.com.ph
Per DTI-NCR Permit No.A2-0718 Series 2008
Halloween is brewing with fun at TriNoma

October 30, 2008
Trick or Treat
10:00 A.M. - 2:00 P.M.
Hip Hip Hooray! Today is candy day!
Come in your spooky costumes to claim your Halloween loot bags at the Concierge near the TriNoma Activity Center and begin your Trick or Treats quest!
Only a limited number of loot bags will be given out.

Bibbity Bobbity Boo!
10:00 A.M. - 8:00 P.M.
Experience chills and thrills with games and activities just for you!


FACE PAINTING by Perfetti Van Melle
SUPER HEADS by Confetti Effects Inc.
COOKIE DEMO FOR KIDS by Mc Cormick
ENCHANTE THE MUSICALE by Enchanted Kingdom
WICKED by Jam 88.3 with special performances by Christian Bautista, Rico Blanco and M.Y.M.P.
10:00 A.M. - 8:00 P.M.
Activity Center