I was able to purchase this gorgeous wooden chocolat party set from comeandplay multiply site. Beautiful hinged wooden box is painted in tempting chocolate browns and sweet pinks. Adorned in strawberries and scallops, it's a great way to store the entire set when it's not being enjoyed.

You are sure to please your sweet tooth with the countless accessories including stackable and interchangeable ice creams, lollipops, chocolates, a 4 slice cake and of course some juicy fruits to keep the taste buds watering. There is also a lovely place setting for 2 of tea cups, saucers, spoons and forks to ensure your afternoon tea party with the Queen is a huge success. Sam will truly enjoy this Christmas gift from moi and her daddy. Can't wait for the actual Christmas day to come!...mas ako pa yung excited eh no?...lol!

Set is made of durable wood.




the box that houses the wooden box




the beautiful and durable wooden box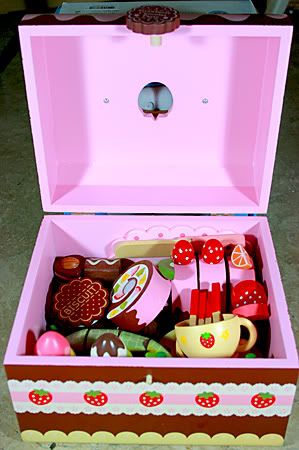 what's inside?




Educational: Social Skills, Hand-Eye Coordination, Fine Motor Skills and Imaginative Play.

Measurements Measurements: Box measures 9"L x 7 1/2"W x 7"H

Age Recommendation Recommended Age: 4+ - Small Parts

Included Included: (About 39 Pieces)
1 Wooden Box, 1 4-Piece Velcro Cake, 4 Velcro Slice Pastries, 4 Different Toppings, 2 Tea Cups, Saucers, Forks & Spoons, 4 Different Chocolates, 1 Magnetic Chocolate Bar, 4 Different Lollipops, 1 Velcro Strawberry, 1 Velcro Orange, 1 Velcro Melon Slice, 2 Ice Cream Cones, 2 Velcro Biscuits with Filings, 1 Pretend Knife for Slicing, 1 Serving Platter.

Absolutely five star for me!